The Covid pandemic, which started in late 2019, has made everyone's life miserable and hectic. The restrictions on mass gathering and movement forced businesses to take their services online. Due to this reason, there is more competition in the digital world, more precisely in social media marketing, as social media is essential for all types of businesses.
Snapchat has a huge audience with more than 300 million daily active users worldwide. So marketers should pay more attention to marketing by using Snapchat hacks instead of neglecting them.
Businesses and marketers should focus more on making a strong marketing strategy and put effort into it if they want to rule the digital world. This article will show you some amazing Snapchat hacks that marketers should focus on in 2022.
Top Snapchat hacks for marketers in 2022 | Use Snapchat for Business
The best way to learn from something is through your own experience. Multiple brands and businesses are using Snapchat to increase their sales on site. If you are willing to rule by making a strong marketing strategy, the main thing you have to do is to create a business account.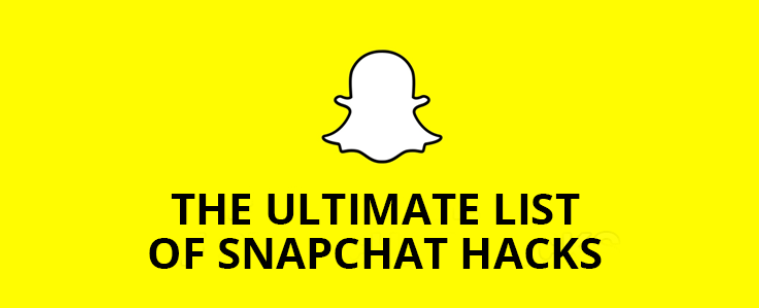 Here are some Snapchat hacks that marketers should use in 2022 to bring a massive conversion rate to their sales.
Share engaging products.
Demonstrate your product in original, catchy, and creative ways, which the new user can't ignore. Try to include every possible thing that makes your product the best. You can add the filters according to your brand and make it entertaining.
Use Top-down Approach
Don't get confused. Using the top-down approach means posting regularly with the same zest and zeal.
Sharing engaging products is not enough to hold the attention of the public. You need to post regularly so that your audience keeps in touch with you. It is very much required to show consistency in announcing and posting products.
You can use the audience insights to know what your audience expects next from you and what product they previously loved. Keep your audience engaged. It will help to increase the engagement rate.
Marketers and business people can use the insightful analytics offered by Snapchat. It allows marketers to prepare the perfect social media marketing campaign. You can see the view time, completion rate, screenshot records, and fallout rate through insightful analytics.
Brand Announcement with Social Media Influencers
You can use the polls for your brand announcement. When you ask your audience to vote on your new products, it will benefit your brand. You may wonder how, right? When your audience starts voting, they are paying more attention. As a result, your brand gets more views and interactions.
In addition, as a change, you can use the two big influencers as a comparison reference to publicize your brand. It will help you bring organic traffic and have a good impression. The report shows that about 90% of the audience is supposed to trust the influencers rather than advertising.
These social media stars and influencers can bring you one viral moment, and then you can have millions of followers who can reach you. If you can't find the influencers on Snapchat, use the other media platform. It will help you in building cross-media networking.
Q&A with exclusive promotions and giveaways
It is something that everyone loves to play. The audience will get a chance to question something that makes them curious about your brand. You can also create quiz competitions related to your brand and business and redirect to your brand's official website to see the correct answer.
In addition, offer discount prices and gifts to the audience who will give the correct answer or share the pictures with your product. It will increase the interest of the audience in your brand. After all, "Everyone loves free things."
But make sure your audience will not get habituated to the promotions and giveaways.
Make your Snap more attractive by using filters and a shoppable AR Lens.
Snapchat filters are the coolest and most fun features. And since people from Snapchat prefer uniqueness, you can use the filters on your Story.
Create your own branded "on-demand geo-filters." Over 40% to 60% of daily users can see the Geofilter. People use a fun way of sharing their location by using geo-filters. You have to submit your Geofilter earlier because it takes a couple of days for approval.
Almost 94% of users expect to use Snapchat AR lenses for shopping. So it's quite obvious that the AR Lens is one of the most valuable features of Snapchat. AR feature is not only focused on marketers; regular users can also use the feature.
But since you are marketers and want to grow your business, use the Snapchat lens to make your product more appealing and interesting. Increase the engagement rate on your Snapchat business account by adding filters on posts.
Add Link to Story
After 2017, it is possible to add links to the Snapchat story. When people go through the link, that means more traffic to your website, Wahoo! All you need to do is click the picture of your product or brand and add a link before posting it on Story.
Add your Snapcode to other social media platforms and websites.
You should not rely only on Snapchat to increase your market value. Your audience and followers are not only on Snapchat, so build the cross-platform network by adding Snapcode to all other social media accounts.
It will help you to make your account more genuine and credible. But keep in mind that your followers will not increase overnight. It takes a lot of patience and calm.
Customize your own Snapchat QR code and share it on other platforms. They are the greatest way to draw the public's attention and market your business.
Expand text space in your Snaps
Snapchat normally allows 31 characters of text space. And of course, it is not enough since you are using it for marketing purposes. But don't worry, there is a workaround process.
First, open the Note application, then select and copy some lines of blank space. Now open your Snapchat application and paste it into the Snapchat text space. And then you can have as much space as you want.
Use this to tell your audience about your giveaways and limited offer deals.
Commercials Ads
Snapchat launched the commercial ads feature in 2018. Standard commercials are unskippable Snap ads that last for 3 to 6 seconds. And extended play commercials ads are 7 to 180 seconds long, but you can't skip the first 6 seconds. They are actually like TV commercial ads. Since the audience can't skip the Snapchat ads, you have to ensure that your Snap Ads are engaging and expressive.
Snapchat content scheduling
You can use scheduling tools like SocialPilot to schedule different types of posts on Snapchat. Its advanced post composer helps you optimize the content not just for Snapchat but also for several social media networks in one single place.
It is helpful in content marketing. Its easy tagging feature makes it possible to tag other profiles easily. As a result, your brand will gain more views.
These are the main Snapchat hacks that marketers must try in 2022. But besides them, more things need to be focused on to grab the social media market in your hand.
The inside factor of Snapchat hacks.
To rule on Snapchat marketing, you should hit the right track and have a strong marketing strategy. Snapchat marketers have to take care of the time when their maximum audience stays online and sees their video.
You can use the Snapchat feature, Snapchat story, Snapchats ad, or 10-second video ads (Snap ads between Story) to build brand awareness. On average more than five billion snaps (including photos and videos) are transferred on Snapchat every day. And it's a tremendous rate. That means Snapchat has a huge engagement rate.
So why are you lying behind? Use the Snapchat hacks, and take your business and brand to the next level.
Be real and original.
You need to post your raw and original brand picture. Opposite to Facebook and Instagram, Snapchat is where people prefer to be real and unfiltered. You don't have to put much effort into getting the perfect Snap.
Give them the reason to follow you. Use the Snapchat username that reflects your brand.
Be friendly
To rule the market, both online and offline, you have to be friendly with your audience. Snapchat should be the place of giving and taking. That doesn't mean you have to give gifts all the time. It means you have to respond to your audience's questions. If they messaged you, reply to them instead of ignoring them. The audience should know how much they mean to you.
Be found
The local people of your area will also recognize your brand through Snapchat. You have to advertise and promote your brand on other platforms also. Facebook, Twitter, and Instagram can help you to do so.