Want to connect with a group of like minded people and hop in some healthy interactions and conversations?
Twitter Chat is a great way to build up some exposure and your following. A perfect place to connect with those sharing familiar interests.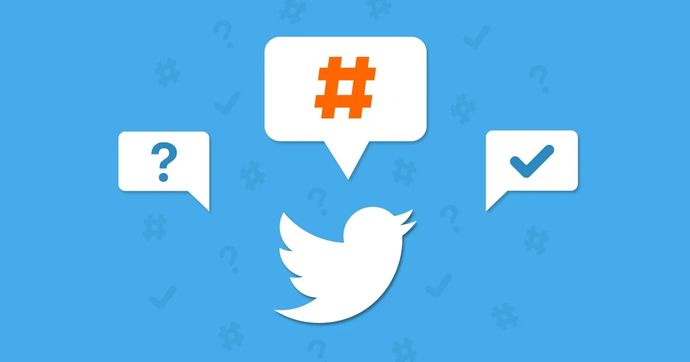 Twitter chat is no less than an interactive party and that too without a dress code. All of you can join to put your tweets as answers to the questions asked and build up conversations where there's plenty to gain and acknowledge for.
Let's get to know more about it.
What is a Twitter Chat?
Twitter chat is basically a twitter conversation/talk carried out by a host around a unique #hashtag. This hashtag allows you to participate and discuss on a predetermined topic. The host posts questions Q1, Q2 and so on for the participants to answer and discuss with A1, A2 tags to the questions, which typically lasts for an hour or one & a half hour. Twitter chat is also known as Tweet Chat, Tweet Party or Twitter Party.
Why Twitter Chat?
As we know Twitter chat is run around a specific topic, it helps in encouraging interaction between like-minded people.
You get to share your experiences, knowledge with other fellow participants.
You get to learn new ideas or apply tested strategies by other people who are a step ahead of you.
You get to interact with influencers and build a whole new network growing your circle who may also want to work, share their knowledge with you.
More interaction, pulls more engagement which in turn can be beneficial for you.
You get to interact with the professionals all around the globe.
Sounds great right?
You'd never want to miss such an opportunity, isn't it?
So, let's check out how you can participate in one Twitter chat.
Tools for a Twitter Chat
There are many tools, you can use to participate in a Twitter Chat, like tchat.io, TweetDeck, Twubs. But I like and prefer tchat.io a Twitter management tool, when it comes to joining and participating in one.
The best part about using tchat.io as a tool Twitter users can use is the hashtag of that Twitter chat is automatically posted with your answers to the question.
It's just awesome!
The main chunk of a Twitter chat is the unique hashtag which has to be mentioned in every answer or replies and tchat.io does that for you. So you can just focus on your answers than being tensed whether you included the unique hashtag or not.
There are a plenty of Twitter chats running around all over the globe, on different timings and days. You can choose your perfect twitter chat, join the room and just get started.
How to participate in a Twitter Chat using Tchat?
Using Tchat is very simple. You don't need a pro account or membership to use this tool to join/participate in a twitter chat. You just need a working Twitter profile.
1. Open tchat.io on your browser.
2. Inscribe the unique hashtag you want to start interaction and participating for and click on 'Go'. For eg: #semrushchat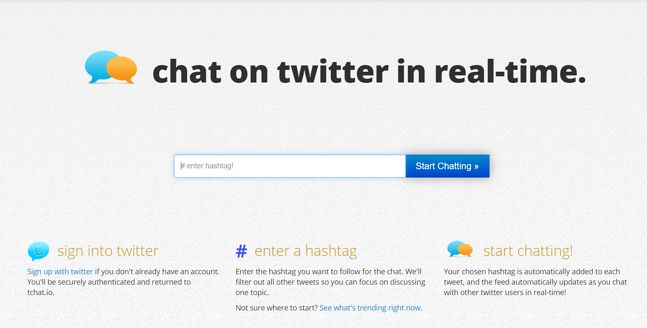 3. You will be asked to authorize your Twitter profile. Follow the instructions and if you have already authorized you will be led that unique hashtag chat room.
4. You will see a couple of answers and discussions already done with that hashtag.
5. In that text-box you can type in your answer using tags A1, A2 and so on and click on Tweet button.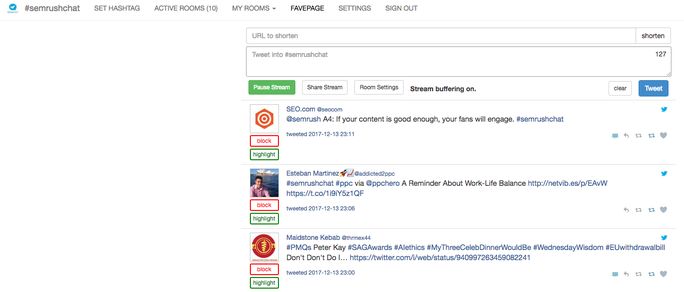 6. You can also reply to a specific tweet using the reply icon and also like, retweet a particular one.
7. If you want to join other chats, at that moment, you can click on the Active Rooms button and select the hashtag you'd like to join
This is how you use tchat.io simply to participate and join a Twitter Chat or a Twitter Party as you would like to call it.