There's no doubt that social media is the most anticipated platform for marketing. Yet, it has landed marketers in a new maze.
Unlike traditional marketing, gauging social media success needs you to be ultra-active. Every other day, you get a newer update on one of the channels you use for promotion.
And this begs the question. How can you know about these updates and leverage them for an enriching promotional scheme?
Besides gorging on books, enrolling in courses and webinars, and trying out those features yourself, you can listen to social media podcasts.
Good social media podcasts are a hard thing to come by. Still, the podcast listening trends show that 55% of the US population listen to them. Many social media leaders and industry experts have started sharing their experiences and advice through this medium.
Because unlike reading books or courses, podcasts don't demand austere commitment. Despite that, they come with a wealth of advantages. Be it at home or while commuting, even while running a mile on your treadmill or during lunch break, you can listen to podcasts literally anywhere and at any time.
With so many influential voices on social media, it becomes tough to decide where you should start. So here we are to guide you.
Here's the compilation of the 7 best social media podcasts of 2023 that you should tune in to.
Let's get started!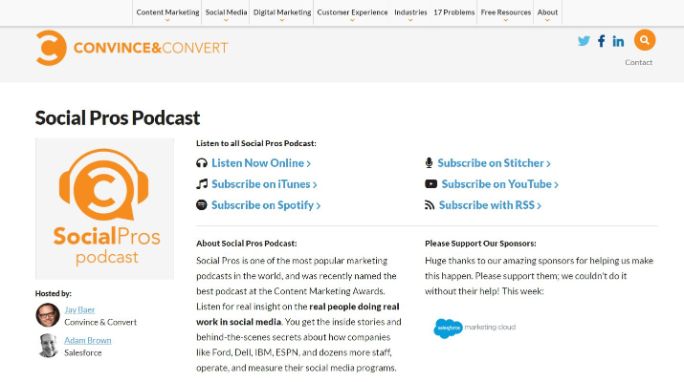 Recently named the best social media marketing podcast at the Content Marketing Awards, the Social Pros is hosted by two outstanding marketers known for their work in the social media field.
Ideal for anyone looking to learn general social media strategies, the Social Pros reveal inside stories and behind-the-scenes strategies of some of the biggest brands in the world, such as Dell, IBM, Ford, and more.
There are over 400+ episodes, with the duration of each episode ranging from 30-60 minutes. The podcasts cover topics on Facebook engagement, Instagram engagement, and why social media customer service can be your ultimate marketing strategy. The hosts also shed light on digital marketing, content marketing, customer experience, and more.
The hosts, Jay Baer and Adam Brown have years of experience in the field. Jay is the President of Convince & Convert, while Adam is an Executive Strategist at Salesforce.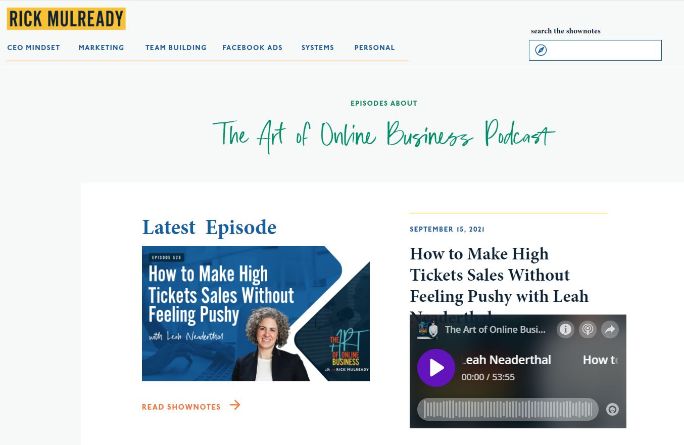 Rick Mulready, dubbed the Iron Man of Facebook ads, is the host of 'The Art of Online Business', a podcast focusing on detailed business and marketing strategies. Perhaps it isn't the best social media podcast for beginners, but it is the right one for people who want to escalate their social media presence.
Episodes range from 20-50 minutes and cover everything from tips and strategies to interviews with industry leaders and case studies.
Mainly focused on Facebook and Instagram, his podcasts also cover growth hacking strategies, lead generation insights, and tips to hiring experts for your team.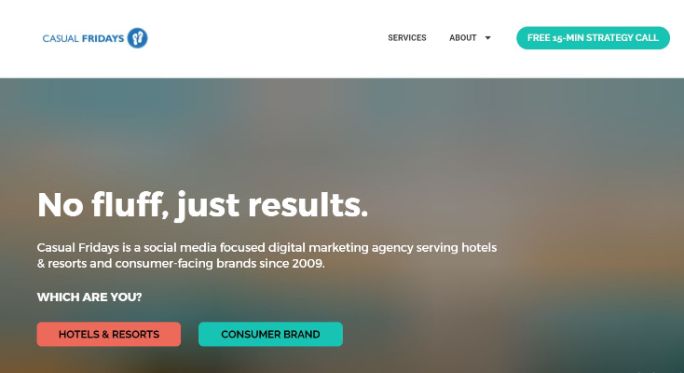 Majorly geared towards the hospitality, tourism, and entertainment sectors, Tyler Anderson's Casual Fridays is a podcast for social media expert strategists in a specific niche.
There are more than 200 episodes you can scan through and learn about best ads practices on top-rated social media platforms like Facebook, Instagram, Twitter, TikTok, etc.
Topics cover almost anything from digital strategies to social media marketing. The good thing is that you can expect to see tips for channels most social media podcasts don't cover, such as LinkedIn, in addition to Facebook and Twitter.
Besides general how-tos, episodes cover advanced topics like running social media marketing tests, driving sales with quizzes, or generating leads.
Case studies also offer insights into strategies some of the biggest fish have used to upscale their business.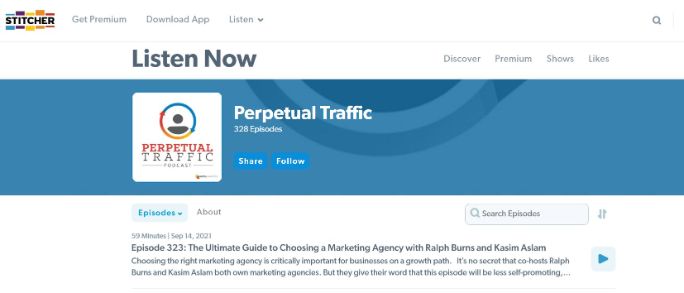 Perpetual Traffic is an interview-style podcast where hosts Ralph Burns and Molly Pittman interrogate successful business owners on their experience and struggles with online advertising and digital marketing.
With episodes ranging from 40-60 minutes, the series focuses mainly on advertising for Facebook. They cover topics like launching a product with Facebook ads or how to achieve customers' awareness for local, online, and physical products through Facebook ads.
Occasional discussions geared towards Instagram, Snapchat, TikTok, Twitter, YouTube, Google AdWords, and other channels add some freshness, while the evergreen content attracts newbies and experienced social media strategists alike.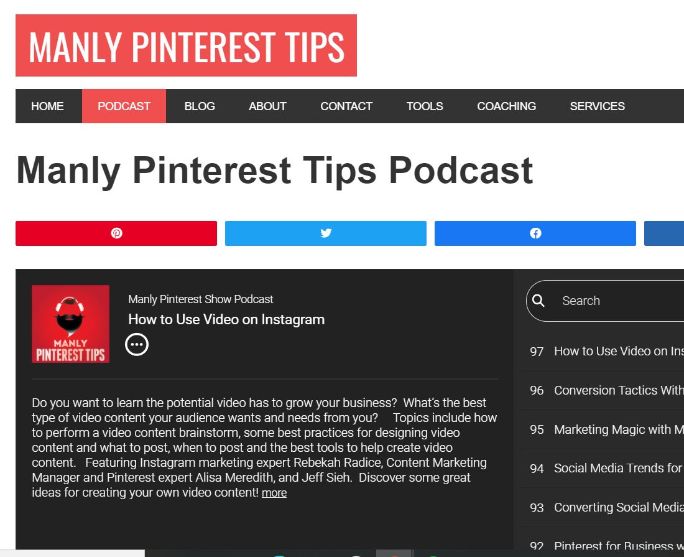 The name says it all. This podcast focuses on Pinterest-specific topics that explore strategies, best practices, and demonstrations with several Power Pinners. Hosted by Jeff Sieh, the episodes cover other social media channels occasionally, including Instagram, Twitter, and Facebook.
The social media consultant and speaker focuses on interview-style episodes developed to answer questions from the community.
Ranging from 40-60 minutes, episodes cover topics like using Pinterest to learn about your customers and community, creating viral images, and how to promote pins, among others. No doubt, an excellent choice for social media marketers focusing on Pinterest as their primary channel.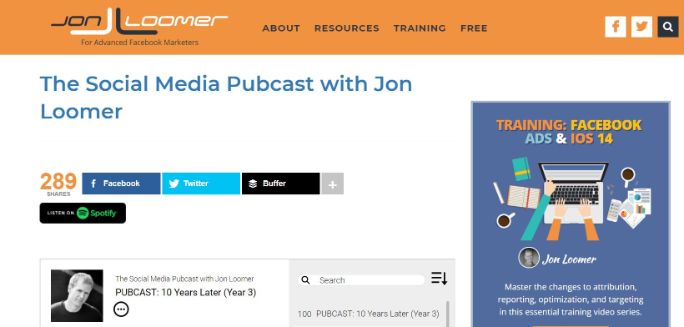 Advanced Facebook marketers or those aiming to become one should listen to the Social Media Pubcast. Hosted by Jon Loomer, the episodes are a mix of audio blog posts and pubcasts with guests answering questions about Facebook marketing and advertising growth hacks.
What makes this podcast stand out is its informal nature that feels like chatting with friends over a beer. On the go, you can listen to the 10-minute long audio recordings of the host's blogs, while the 40-minute pubcasts are long enough to keep you entertained during a long commute or throughout the evening.
Episodes include examples of evergreen Facebook campaign triggers, strategies for creating Facebook ads funnels, as well as tips and tricks for building audiences, leads, and conversions.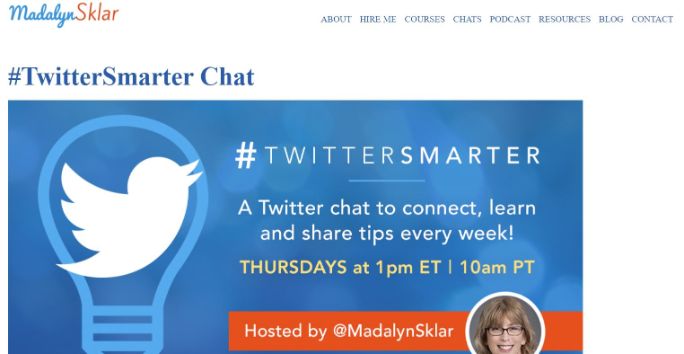 Social media marketers looking to develop their strategy around Twitter will surely like the #TwitterSmarter with Madalyn Sklar.
The marketing expert uses the podcasts to share her insights and tips on Twitter's best practices and interviews with some of the best social media and marketing strategists in the world.
The episodes revolve around building outstanding Twitter content strategies, using Twitter lists and GIFs to connect with people, building friendships, becoming an influencer, practical tips, and more.
Episodes have an average of 30 minutes, just the right length to listen to during your lunch break or while exercising at the gym.