Ever wondered why a handful of niche players dominate businesses of the same industry? The answer lies in their personalized marketing strategy.
A recent Forbes study suggests 91% of customers are likely to shop from brands that offer tailored experiences like recommendations and offers while 83% of consumers are ready to share information for the sake of personalization.
Marketers have a massive amount of data at their disposal, yet not many make use of it as much as they should. On the other hand, some employ hyper-personalization techniques to relish its unbounded benefits.
They use it to improve their website visitors' user experience, better ad retargeting, and finding a relevant audience on social media.
If you are itching to implement this booster, start with a personalized social media marketing strategy. It's an established fact that social media is the fastest way to connect you with your potential customers.
Apart from using these insights to optimize your overall marketing, you can use data to personalize your social media messages.
Let's find out more about the concept and its role in enhancing social media marketing in specific.
What is personalized marketing?
Personalized marketing uses data to deliver more relevant messages to your target audience. In other words, businesses collect data on their audience's interests, demographics, and behavior to create more relevant and valuable content.
This is becoming increasingly popular as people have content coming at them from every direction. If you want any chance to stand out, you'll have to add some kind of personalization hacks.
A study from the University of Texas showed that personalization helps you reach consumers in two ways:
Personalized content makes consumers feel that they have some control over what they wish to see.
It saves them from information overload.
Sounds obscure?
It isn't. You have been served with personalized content multiple times.
Take Netflix, for example. They offer more than 15000 shows on their platform. It's impossible to go through all of them manually. So they make use of advanced algorithms that work as a recommendation system. Based on the shows, devices used, and duration you watched in the past, it will suggest other shows you're likely to enjoy.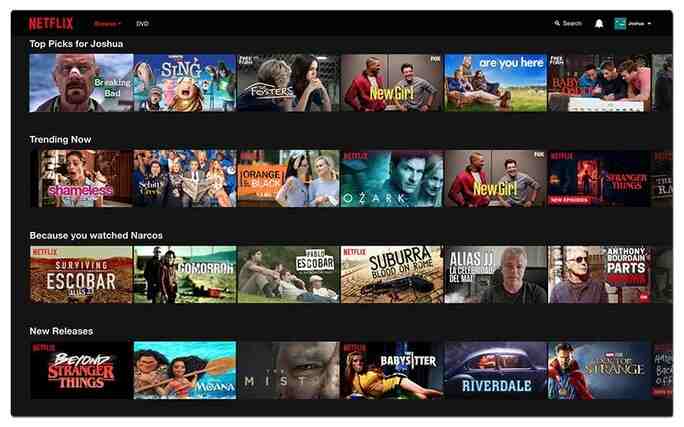 Note how they also use personal information such as someone's first name to personalize this page: "Top Picks for Joshua". The algorithms behind these recommendations filter out all irrelevant shows, improving your viewing experience and ultimately keeping you longer on the platform.
Coming back to the question of the hour, how can you use personalization in social media marketing? Turns out there are multiple ways to do it.
How to use personalized marketing in Social Media?
Here are 5 examples of how you can use personalized content in social media marketing.
1. Personalization in social media retargeting campaigns
Retargeting campaigns offer incredible opportunities when you combine them with personalization.
Retargeting is the practice of sending targeted advertising to people who've already interacted with your website in one way or another. For example, someone read one of your blog posts, visited your pricing page, added a product to the shopping cart but didn't complete the transaction.
You can target any of these people with a separate, personalized message, showing dynamic ads of the same product they had checked on your site earlier. Or, after they made a purchase, show them ads of additional products.
Think of Amazon's recommendation engine: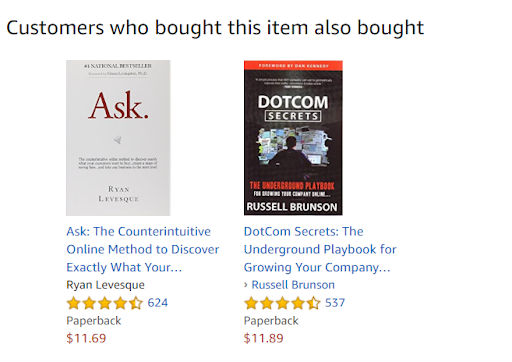 You can't get more personal than this. You can even put products into different groups to present the most relevant ad in every situation. In many cases, segmented marketing also allows for amazing personalization in ads.
Take a look at what Expedia did: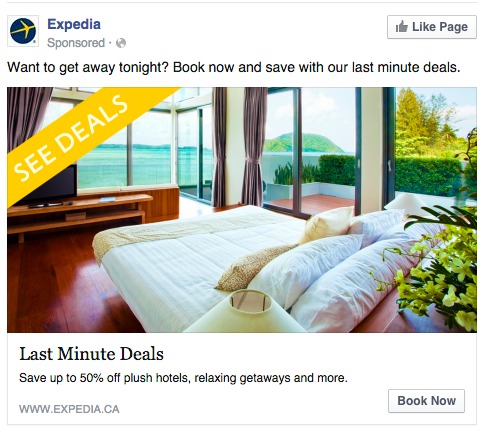 People who clicked this ad and searched for hotels in Whistler were later retargeted with the following ad on Facebook.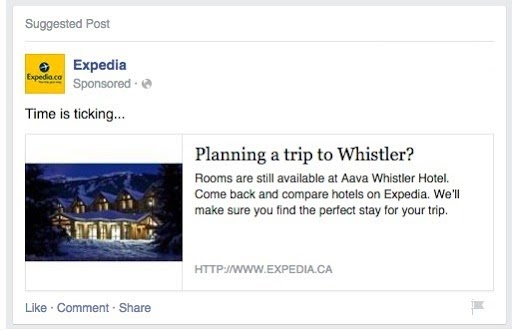 Showing specific copy aimed at common pain points can help the customer feel like you really understand them. This can help start the relationship off on the right foot.
But what about existing or previous customers? Re-engagement campaigns with copy like "It's been a while and we've missed you" can feel a little more personal to users who haven't purchased recently. It reflects on their current standing with your business, and even if it's a mass email or social ad, it doesn't necessarily feel like it talks to many users.
2. Personalized videos
One of the most used types of content on social media is video content. And recently, brands are taking it a step further by creating personalized videos.
The best example of this is videos made by Facebook for its users, showing them the social history of a particular friendship. These videos only hold value to you and your friends, which makes it as personal and relevant as it gets.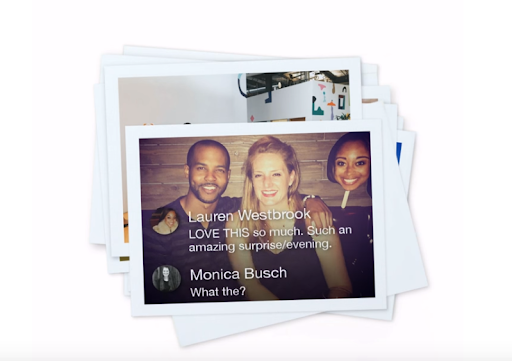 But we're not Facebook, and we can't all start a social network site to do this kind of thing. Luckily, you can simply leverage Facebook's data to create personalized videos.
Cadbury ran a campaign using this tactic. They collected data from their Facebook fans' profiles. This information included age, location, and even their interests. Of course, the users had agreed to connect with the brand and let them see their on-platform information. (Don't forget about the GDPR regulations if you're operating in Europe).
The video used a combination of personal photos and information to match users with a flavor of chocolate. It was generated automatically, and users were given a truly personalized video.
For example, this is how George's video looked like: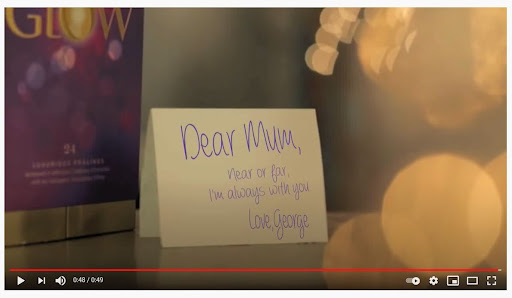 This campaign was a grand success. 90% of viewers watched their personalized videos till the end, while 12.23% of them even shared them with their family and friends. It also had a 65% CTR and a 33% conversion rate.
3. Personalized social media quizzes
Quizzes do two things very well. They engage your audience and help you gather pertinent information needed to personalize your users' experiences.
As an added bonus, they are also extremely shareable. According to Buzzsumo, the average quiz is shared up to 1900 times.
This means that you will have way more opportunities to gather the needed information for personalizing. All of this will make your visitors more likely to participate in your quiz, providing you with information to personalize their experiences.
That's exactly what Eneco, an energy producer and supplier, did. In just 6 weeks, Eneco collected more than 1000 conversions with a single quiz – 5X more than what they had expected.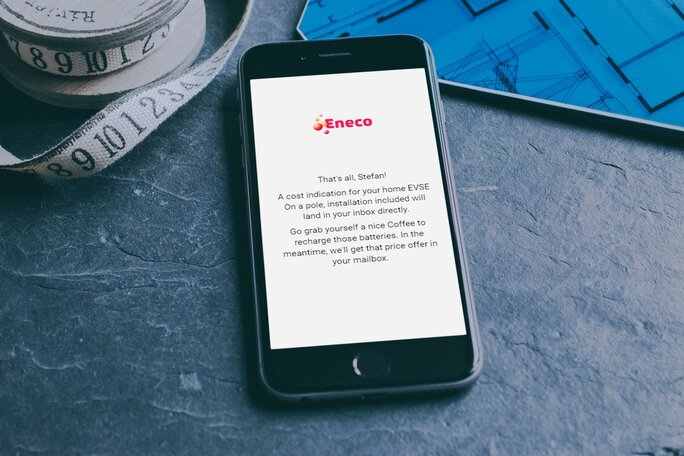 So how did they do it?
They launched Facebook and Google Ads Display campaigns to target and retarget website visitors with their quiz. The quiz was called "Calculaadtor", a calculator that gave people a good indication of what it would cost to buy a home charger for their electric car. People answered the short and easy questions. The questionnaire gave them a ton of information in return.
Later it helped Eneco to send highly targeted emails and information to these prospects based on their answers. Thus, Facebook quizzes are a great way to capture lead data.
You can also use this strategy on Facebook for better engagement. Use any Facebook automation tool to schedule content, create images, and post them along with questions. Encourage people to answer in the comment section and take the connection further by providing them something in return.
4. Personalized social media chatbots
Chatbots have been quite popular lately, and for a good reason as they have huge potential. But let's take it one step further and see if we can personalize this tool.
Aside from inserting the user's first name, most chatbot conversations are rather impersonal. You can compare it to a good salesperson. They will ask you questions and offer recommendations tailored to the information you give them. They will craft a personalized experience with AI chatbots based on the answers of each individual. In theory, a chatbot can do the same, albeit virtually.
One example that's doing a great job at that is Verve.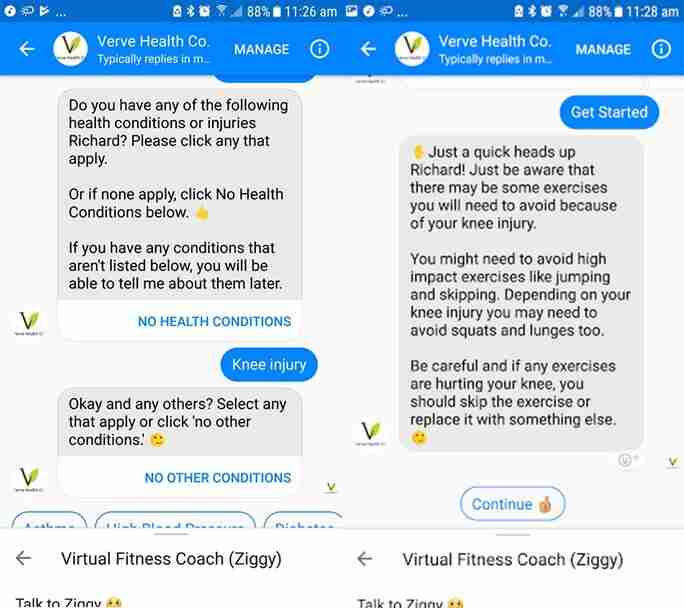 They implement feedback from the user to give personalized workout advice. Such integrations make you a prompt business, allowing you to help your customers faster. Based on the responses, the chatbot gets trained to personalize experiences even better.
5. Personalized real-life campaigns based on social media data
How would you like to receive a personalized gift, when you are sitting in the airport? KLM, the Dutch Airline, did just that. They called it KLM Surprise.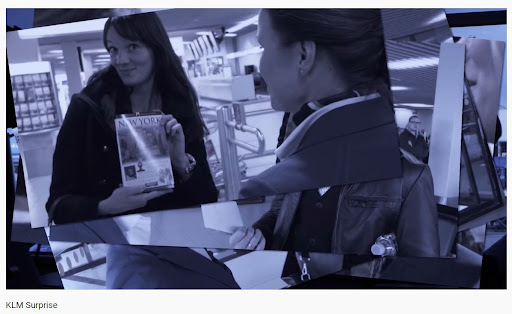 They installed a team at Schiphol Amsterdam Airport, who would track down KLM passengers who checked in via Foursquare to surprise them with a personalized gift that made their travel even more enjoyable. The team scanned the passengers' social profiles to come up with personalized gifts for each of them.
They made a mini-documentary of the campaign and made a special website with all the KLM surprise stories. It was picked up worldwide and shared massively via social media.
They also garnered more than 1,000,000 impressions on Twitter alone. It proved social media is not just a medium but a massive PR instrument if you use it correctly.